Room Index
Most CIP-Pools are located within the Blue Computer Science (CS) Building:
Another CIP-Pool is located within Casa Huber.
If you are planning to host any events like programming courses or lectures, CIP-Pools are also bookable. For free slots check the timetable of the room in question and contact the room coordinator listed in UnivIS (see below).
If not specified otherwise, the rooms are accessible at the normal opening hours. Outside the opening hours, you can enter the room with a registered door access card.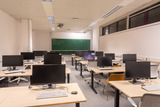 Location: ground floor of the Blue CS Building
Platform: Debian GNU/Linux
Hostnames
Quantity
Description
cip3a0, cip3b0-3, cip3c0-3, cip3d0-3, cip3e0-3, cip3f0-3
21
Fujitsu Esprimo P958, Intel Core i7-8700, Nvidia Geforce RTX 2080, 32GB RAM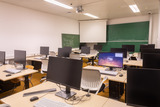 Location: ground floor of the Blue CS Building
Platform: Debian GNU/Linux
room phone: 28884
Hostnames
Quantity
Description
cip4a0, cip4b0-3, cip4c0-3, cip4d0-3, cip4e0-3
17
Fujitsu Esprimo P958, Intel Core i7-8700, Nvidia Geforce RTX 2080, 32GB RAM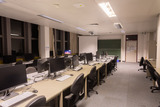 Location: 1st floor of the Blue CS Building
Platform: Debian GNU/Linux
Hostnames
Quantity
Description
cip6a0-6, cip6b0-7, cip6c0-7, cip6d0-4
28
Fujitsu Esprimo P758, Intel Core i7-9700, 32GB RAM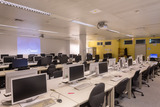 Location: 1st floor of the Blue CS Building
Platform: Debian GNU/Linux
room phone: 27628
Hostnames
Quantity
Description
cip1a0
1
Dell OptiPlex 5090, Intel Core i7-10700, 32 GB RAM
cip1b0-6, cip1h0-7
15
Dell OptiPlex 5090, Intel Core i7-12700, 32GB RAM
cip1c0-7, cip1d0-7, cip1f0-7
24
Dell OptiPlex 5000, Intel Core i7-12700, 32GB RAM
cip1e0-7
8
Fujitsu Esprimo P758, Intel Core i7-9700, 64GB RAM
cip1g0-7
8
Fujitsu Esprimo P758, Intel Core i7-9700, 32GB RAM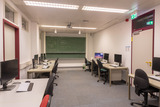 Location: 1st floor of the Blue CS Building
Platform: Debian GNU/Linux
room phone: 27864
Hostnames
Quantity
Description
cip5a0-5, cip5b0-5
12
Fujitsu Esprimo P758, Intel Core i7-9700, 32GB RAM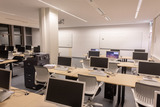 Location: 2nd floor of the Blue CS Building
Platform: Debian GNU/Linux
Name
Quantity
Description
cip8a0, cip8b4-6, cip8c4-6, cip8d4-6, cip8e4-6
13
Intel Core i5-7500, 16GB RAM
cip8b0-3, cip8c0-3, cip8d0-3, cip8e0-3
16
Fujitsu Esprimo P758, Intel Core i7-9700, 32GB RAM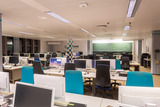 Location: 2nd floor of the Blue CS Building
Platform: Debian GNU/Linux
room phone: 28308
Hostnames
Quantity
Description
cip2a7
1
Fujitsu Esprimo P758, Intel Core i7-9700, 32GB RAM, BluRay-writer
cip2a0-6, cip2b0-2, cip2c0-2, cip2d0-2, cip2e0-2, cip2g3-7
24
Fujitsu Esprimo P758, Intel Core i7-9700, 32GB RAM
cip2b3-7, cip2c3-7, cip2d3-7, cip2e3-7, cip2f3-7
25
Dell OptiPlex 5000, Intel Core i7-12700, 32GB RAM
cip2f0-2, cip2g0-2, cip2h0-6, cip2i0-7
21
Dell OptiPlex 5090, Intel Core i7-12700, 32GB RAM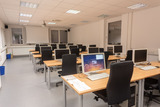 Location: ground floor of Casa Huber
Platform: Debian GNU/Linux
Hostnames
Quantity
Description
cip7a0
1
Dell Precision 3650 Tower, Intel Xeon W-1370 (8 cores x 2 threads), Nvidia GeForce GTX 1070, 64GB RAM
cip7b0
1
Dell OptiPlex 7000, Intel Core i7-12700, Nvidia GeForce RTX 3070, 64GB RAM, BluRay-writer
cip7b1-2, cip7c0-2, cip7d0-2, cip7e0-2, cip7f0-2, cip7g0-2
17
Dell OptiPlex 7000, Intel Core i7-12700, Nvidia GeForce RTX 3070, 64GB RAM